About Invisalign
What Is Invisalign?
Invisalign technology employs transparent, high-quality plastic aligners to build attractive smiles. These aligners are almost undetectable, readily removable, and produced with 3D imaging technology to ensure a flawless, unique fit. Overcrowding, spacing, crossbites, overbites, and underbites are just a few of the orthodontic issues the Invisalign system from Braces by Dr. C can help with!
Why Patients Love The Invisalign System
The Invisalign system has evolved as a cutting-edge, patient-preferred teeth straightening technique in the ever-changing field of dentistry and orthodontics. This advanced technology, which has successfully treated over 9 million patients worldwide, has various advantages over traditional braces, making it an increasingly popular alternative for individuals looking for a flawless smile. Learn why patients appreciate the Invisalign system, including its unique features, unparalleled convenience, and significant influence on oral health.
Improved Comfort & Subtle Aesthetics
The practically undetectable look of Invisalign over traditional braces is one of the key reasons people choose it over traditional braces. The system employs a series of custom-made, transparent plastic aligners that tightly fit over the teeth, making it far more discreet than traditional braces' obvious metal brackets and wires. This understated appearance allows patients to feel more secure and at ease in social situations while avoiding calling unnecessary attention to their orthodontic treatment.
The aligners' smooth plastic material reduces the discomfort and irritation commonly associated with metal braces, which can cause severe abrasions to the cheeks and gums. Consequently, patients will have a more enjoyable teeth-straightening experience without unnecessary discomfort.
Improved Oral Health & Hygiene
Keeping adequate oral hygiene with conventional braces can be tricky since food particles frequently become stuck in the brackets and wires. The removable aligners used by Invisalign allow patients to brush and floss their teeth regularly, lowering the risk of tooth decay and gum disease throughout treatment. Additionally, the aligners are simple to clean with a toothbrush or special Invisalign cleaning equipment, ensuring your dental health is maintained throughout treatment.
Individualized Care & Cutting-Edge Technology
At Braces by Dr. C, we are passionate about modern advancements in the orthodontic field. We are proud to offer this orthodontic treatment in Bartlesville and Tulsa, OK, for patients with a highly individualized approach to teeth straightening, utilizing modern digital technology to develop a precise and efficient treatment plan. Our orthodontists can construct a detailed map of a patient's teeth using 3D digital imaging, allowing them to create an accurate sequence of aligners suited to each individual's specific needs. This level of customization assures a perfect fit and, in many circumstances, a faster treatment period than standard braces.
Technological integration lets patients preview their post-treatment smile through a visual depiction, offering motivation and confidence in the expected outcomes.
Ease & Adaptability
Invisalign aligners are intended to be worn for 20-22 hours a day and can be removed simply for eating, drinking, and cleaning. Unlike traditional braces, which impose dietary limitations, this flexibility lets patients enjoy their favorite meals and beverages without concern. Being able to easily remove your aligners allows you to engage in sports or perform musical instruments you have always loved.
Braces by Dr. C is proud to be a top Invisalign provider in Bartlesville and Tulsa, OK – offering our patients a discreet, pleasant, and quick way of getting their ideal smile. With unrivaled adaptability, ease of use, and proven success, it's no wonder that Invisalign is gaining popularity among patients of all ages!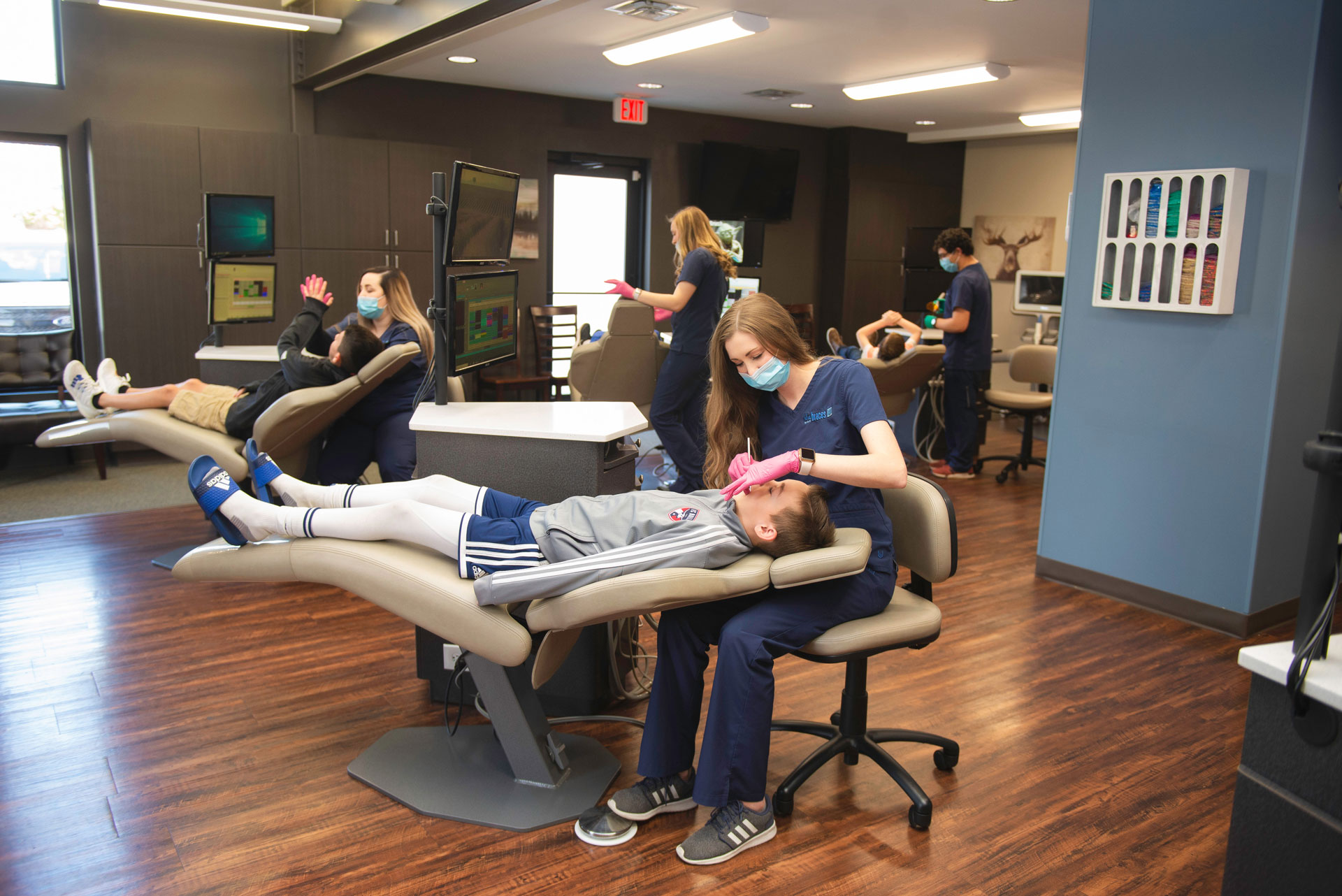 Invisalign For Kids
When Should My Child See An Orthodontist?
Your child should ideally start seeing an orthodontist by the age of seven. Early orthodontic treatment is the most effective way to proactively avoid severe orthodontic issues in the future and spot any potential concerns as they happen. At Braces by Dr. C, our number goal is to give your child the best headstart possible in their oral health. We've helped many children in the Bartlesville and Tulsa communities by mitigating tooth decay, creating space for overcrowded teeth, helping the eruption of permanent teeth, guiding proper jaw development, and more. By doing this, we help your child to better avoid orthodontic issues such as incorrect bites, dental extractions, uneven or crooked teeth, and more.
As a parent, it may not always be obvious that your child may require orthodontic treatment. Routine early orthodontic treatment and regular check-ins with us are the best, most effective ways you can be proactive in ensuring no orthodontic issues arise. Some common orthodontics that we see in children can include:
Overcrowded teeth
Overbite/underbite
Crooked, uneven, or overlapping teeth
Excessive thumb-sucking, pacifier use, or mouth breathing
Difficulty chewing, biting, or drinking
Speech difficulties
Premature or delayed loss of baby teeth
Our team at Braces by Dr. C loves working with kids and helping them learn about and care for their oral health. Schedule a free consultation today to see how we can help your little ones!
Is My Child A Candidate For Invisalign?
Invisalign for kids is a fantastic option that more and more parents are taking advantage of for their children. Invisalign for kids in Bartlesville and Tulsa, OK, is tailored to your child's specific needs and is developed to produce reliable outcomes and a pleasant experience. Although not every case can be treated with Invisalign, like severely rotated teeth, many of our younger patients are great candidates.
Invisalign First was made with the specific needs of kids in mind, and it allows the jaw and teeth to continue to develop while still being in the proper positions for tooth eruption. Each set of aligners includes a compliance indicator that lets us know if your child is wearing them for the recommended 20-22 hours each day. As you continue to wear your aligners throughout the course of each two-week cycle, this mark will fade from blue to clear.
Benefits Of Invisalign For Kids
Invisalign has several advantages for children, including making them more comfortable throughout orthodontic treatment. Parents also prefer Invisalign for the same reasons:
Comfort

—

The trays are custom fit for your child's mouth. The smooth surface of Invisalign makes it easier to get acclimated to than traditional braces, which can chafe and irritate the inside of your child's mouth. Aligners are also more durable than traditional braces because they are made from a single piece of plastic, eliminating the risk of loosening or breaking wires or other removable components.
Oral Hygiene

—

Your child can remove their clear aligners to brush and floss normally. It is easier to reach all areas of the mouth while brushing without wires so that less food will become stuck between teeth and gums.
No Dietary Restrictions

—

With traditional braces, metal wires, and brackets can break if your child eats crunchy, chewy, and hard foods. The transparent aligners, on the other hand, may be easily removed before meals so your child can continue eating all their favorite foods.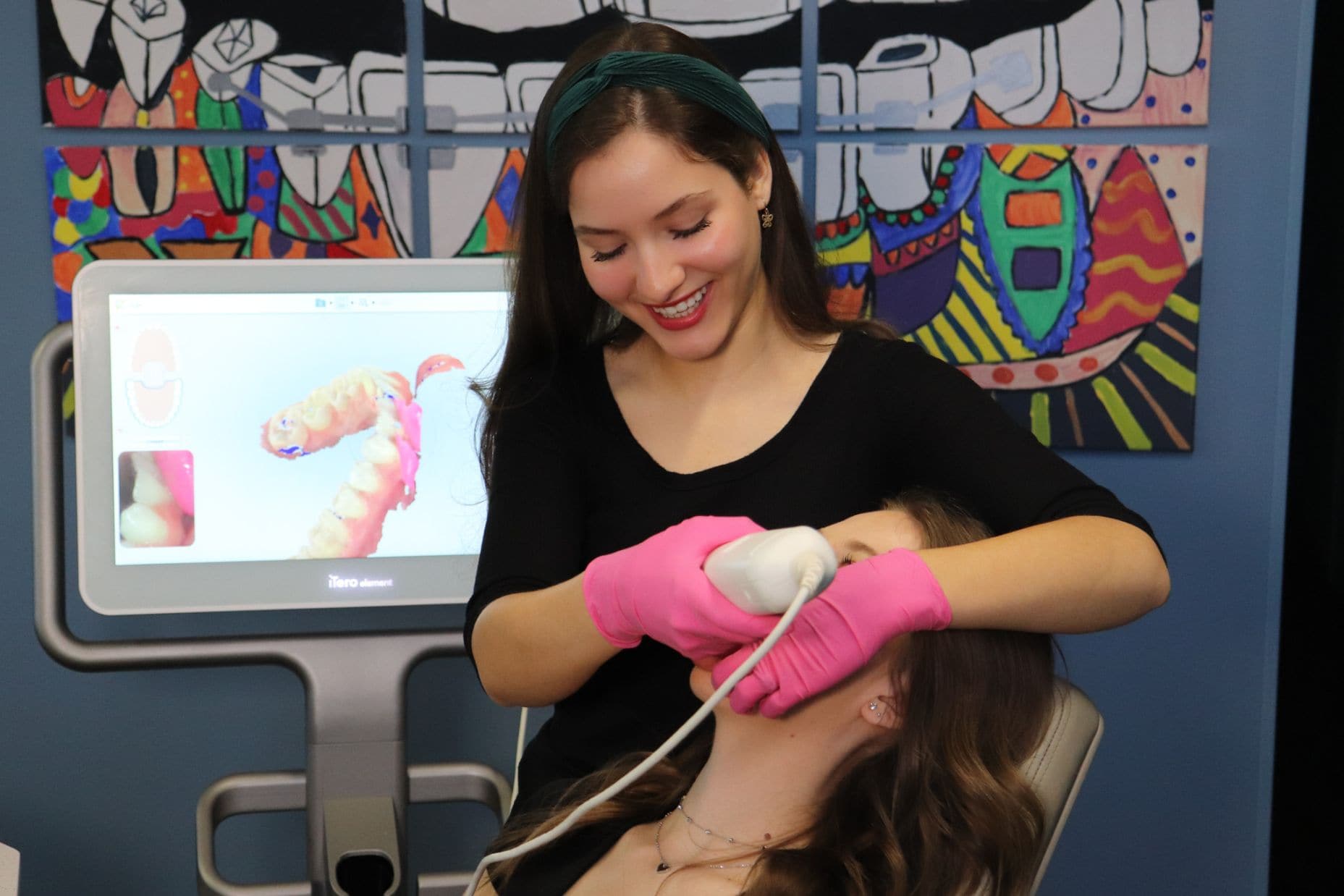 Invisalign For Teens
The Invisalign For Teens Difference
At Braces by Dr. C, we understand that parents want their kids to have healthy, straight, confident smiles as they grow up. Thanks to improvements in orthodontics, teens now have more options than ever. Our office is proud to offer a revolutionary new way to straighten teeth: Invisalign for Teens. This system looks better and works better than traditional braces, giving your teen the confidence they need during this critical stage of development.
Invisalign for Teens in Bartlesville and Tulsa, OK, is made just for teenagers and their constantly changing dental needs. Each set of aligners is custom-made just for them, based on a detailed 3D digital scan of their teeth. This ensures that the treatment plan is made to fit the needs of each person. This personalized approach makes it possible to effectively move the teeth and takes the least amount of time.
Invisalign for Teens also has a unique blue compliance indicator that lets parents and our team closely monitor how long the aligners are being worn. As the aligners are worn, the blue color of the indicator slowly fades. This shows it's time for the next set, ensuring the treatment goes as planned.
Invisalign for Teens from Braces by Dr. C is an easy, comfortable, and effective way to straighten your teen's teeth. Investing in this advanced treatment can help your teen get a perfect smile. Trust our experience to help your child get the best oral health and self-confidence.
Why So Many Teen Patients Love Invisalign
As your child enters their teenage years, they may start to care more about their appearance, including how straight their teeth are. Traditional braces have been useful in treating orthodontic issues for many years, but they come with some significant drawbacks, such as discomfort, food restrictions, and a less desirable aesthetic. Invisalign for teens is a revolutionary way to straighten teeth that is becoming increasingly popular with teens and their parents for various reasons.
Comfort
Invisalign trays are made from a smooth, medical-grade thermoplastic material with no sharp edges or wires irritating lips, cheeks, or gums.
Invisible Treatment
This is possibly the biggest reason teens love Invisalign as an orthodontic treatment! Because of the clear, virtually invisible trays, they can maintain a more subtle, natural-looking appearance during their treatment.
Convenience
With Invisalign's removable trays, your teen doesn't have to worry about diet restrictions or changing their oral hygiene routine. This freedom removes the need to avoid food that could damage traditional braces. This allows them to enjoy their favorite foods and maintain proper nutrition during treatment. They can also maintain an efficient oral hygiene routine of brushing or flossing after every meal by simply removing the trays. This will significantly decrease the risk of gum disease and tooth decay during treatment.
Because Invisalign has so many benefits, it's easy to see why so many teens are interested in it. Invisalign can make straightening teeth easier and more fun for your teen. It can make teeth look better, make them feel better, give them more freedom with food choices, and improve their oral hygiene. If your child is considering getting orthodontic treatment, make an appointment with our team for a free consultation to find out if Invisalign for teens in Bartlesville and Tulsa, OK, is the right choice.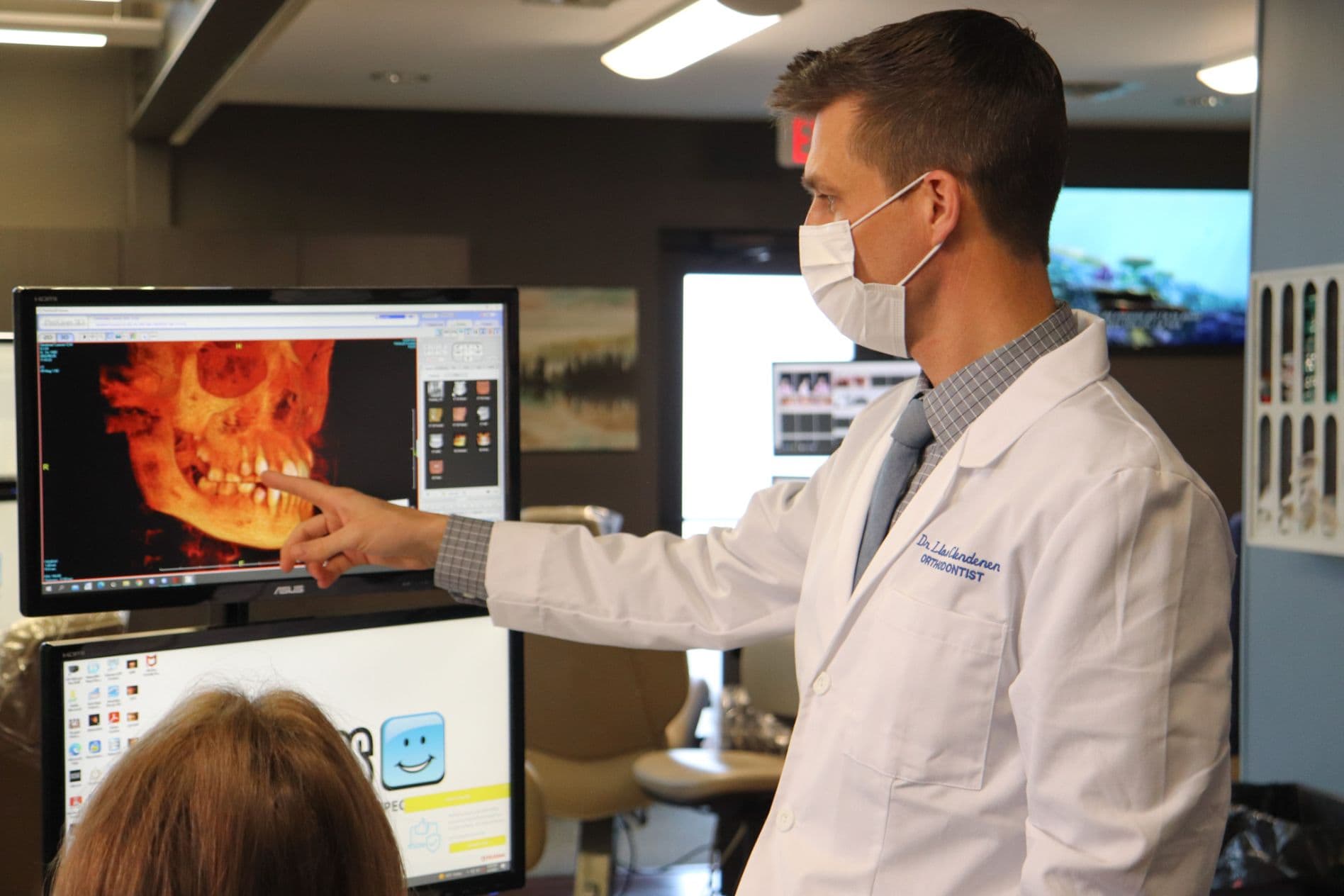 Invisalign For Adults
Common Reasons Adults May Consider Orthodontic Treatment
Orthodontic treatment is usually thought of as something kids and teens do because their teeth are still growing and changing at that age. But more and more adults are getting orthodontic care for a variety of reasons, including:
Aesthetics & Self-Confidence

—

 Most adults want orthodontic treatment to improve their appearance. A straight, appealing smile can make you feel more confident and self-assured and also make social and professional interactions more enjoyable. Misaligned or crooked teeth can make people self-conscious when they smile, affecting their quality of life.
Oral Health Improvement

—

 Crowded or misaligned teeth make oral hygiene difficult, increasing the risk of tooth decay and gum disease. Straightening teeth makes cleaning and flossing easier, improving dental health. Proper bite alignment can also prevent tooth wear, jaw discomfort, and TMJ issues.
Avoid Oral Health Problems

—

 Orthodontics can heal and/or prevent certain health disorders. Misaligned teeth can cause problems chewing, speaking, sleeping, and grinding teeth (bruxism).
At Braces by Dr. C, our goal is to help you enjoy all these benefits for yourself! Regardless of why you're considering orthodontic treatment now, you'll be glad you made the investment!
How Is Orthodontics For Adults Different?
Adult orthodontics isn't just about getting a knock-out smile; it's also about fixing and improving how your teeth and jaw work, which can make a big difference in your overall quality of life. By fixing dental problems like misaligned teeth, overcrowding, or bad bites, orthodontic treatments can ease jaw pain, prevent uneven tooth wear, and lower the risk of periodontal disease. All these things are essential for keeping your smile healthy and bright.
At Braces by Dr. C, our team is committed to providing Invisalign for adults looking to improve their dental health and aesthetics. With flexible scheduling options and payment plans, we ensure that all of our patients feel welcome and at ease. With our top-notch orthodontic services in Bartlesville and Tulsa, OK, you can start your journey to a smile that makes you feel better about yourself and is healthier.
Benefits Of Invisalign For Adults
Invisalign's outstanding features are beneficial for our adult patients in a number of ways, including:
Discreet Treatment

—

 Invisalign aligners are virtually invisible, which means you can straighten your teeth without anyone noticing.
Comfortable

—

 The smooth, custom-made aligners are designed to prevent irritation and discomfort for your gums and cheeks.
Removable

—

 You can easily remove your aligners while eating, drinking, brushing, and flossing, making them more convenient than traditional braces.
Minimal Impact on Daily Life

—

 Invisalign aligners do not interfere with your day-to-day activities, so you can be confident in your appearance during all social and professional situations.
Quicker Results

—

The average treatment time for Invisalign is between 12 to 18 months, which is typically shorter than traditional braces.
Embark on your journey towards a healthy, beautiful smile today by scheduling a free consultation with the leading Invisalign provider in Bartlesville and Tulsa, OK. We look forward to meeting you and helping you achieve the smile you've always dreamed of!
Invisalign FAQ